From the Desk of the Pastor

Holy Greetings,

Acts 22:15 For thou shalt be his witness unto all men of what thou hast seen and heard.
Our theme this year is "Being a Witness for the Lord". What a wondrous time we face thisyear, with all the changes that are surrounding us in this land. But the one thing that has not changed is GOD.

As the writer was expressing the purpose of the calling on his life, we too must be reminded that the world does not always agree with God, but we must a witness of His Word because our mission is to win souls for Him.

How can we do this you might ask? It is thru our living nad mirror reflections of our Savior. We are not going to live this year in the image of others. We are not going to live as others want, but we shall live as a witness to His calling on us. When the language is foul, we will correct it and remind the world whom we serve. When others go the wrong direction, we shall turn to the right direction.

How can we serve a living God you ask? By living a saved lifed that reflects Him; with the same dedication and action that we deamnd of God, we shall give unto Him.

Make it a habit to invite someone, not just on special occasions but every service. Come with someone and let us fill the house. Let us make the Angels to stand because the seats are filled with the people of God.

Your Servant,

Pastor Jeffery C. Hunt
God's Grace COGIC






Preacher, Teacher, Faithful Worker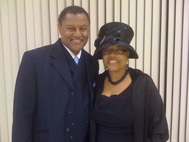 Pastor Jeffery Hunt serves as the Pastor of God's Grace Church of God in Christ (COGIC) located in Sacramento. Pastor Jeffery Hunt Sr. was born on July 28, 1954 in Bakersfield, CA to the late Deacon William A. Hunt Sr. and State Supervisor R.L. Hunt. He was the fourth of five children. He moved with his family to North Highlands, CA when he was seven years old and has lived in the Sacramento region for over 53 years.

He has been married to Missionary Pamela Hunt for 37 years. They have three children Jennifer Manchester (John), Missionary Jessica West (Gregory) and Jeffery Jr. and one granddaughter Seraiah West.

Pastor Hunt graduated from Highlands High School, North Highlands, CA in 1972. He is a member of the International Brotherhood of Electrical Workers (IBEW) Local 340 Journeyman Wireman. He graduated from American River Junior College, Sacramento, CA in 1979 with an Associate in
Arts degree in Liberal Arts and also attended Sacramento City College from 1991-1992.

He is currently employed as Code Enforcement Field Supervisor in the City of Stockton. Other positions held are Senior Code Enforcement Officer City of Stockton in 2000; Code Enforcement Officer for the City of Stockton in 1997; a Journeyman Inside Wireman for IBEW from 1973-1997 and Maintenance Electrician at Aerojet General Corporation from 1980-1983.

Pastor Hunt is third generation Church Of God In Christ (COGIC). The first church he attended was Trinity (O Street) COGIC, Bakersfield, CA Pastor Bishop Douglas. He was baptized at Saints Memorial COGIC, Bakersfield, CA Pastor Supt. R.C. Meeks. He received the Holy Ghost at Nash Temple COGIC Sacramento, CA Pastor Supt. Thurman Reed. He served as Junior Deacon at North Highlands Community COGIC, North Highlands, CA Pastor Richard Walker; Deacon at North Highlands Community COGIC, North Highlands, CA. Pastor W. Frazier. He received his call to ministry at North Highlands Community COGIC, North Highlands, CA Pastor A. Galbraith in 1985. He served as Assistant Pastor at North Highlands Community COGIC, North Highlands, CA Pastor Bishop A. Galbraith in 1992. He received a pastorate appointment at God's Grace COGIC Sacramento, CA in 2002 and is currently serving.

He has served in the following church positions:

Local Office:
Sunday School Teacher; YPWW Teacher; Friday Youth Night Leader; Usher, Hospitality; Deacon; Trustee; Associate Minister.

District:
Usher Board President, Sunday School Treasurer & Superintendent; Deacon Board President; Finance Team; Secretary; Assistant
Superintendent.

Jurisdiction:
Finance Team Member; State Adjutant: Security; YPWW Assistant; State Choir Member, Finance Officer; Sunday School Superintendent.

National:
Sunday School Executive Staff; UNAC 5: San Francisco- Security Staff; AIM Convention Staff; National Leadership Meeting: Sacramento Staff; National Convocation Staff; General Assembly Election Commissioner.


---